Algotech Solutions Named as Romania's Top Software Developer on Clutch
At Algotech Solutions, we think of ourselves as extensions of our partners' businesses, providing them effective solutions that fit their budget, schedule, and requirements. Located in Cluj-Napoca, Romania, our company makes development the easiest part of your business.
With decades of experience in the IT and engineering industry, we are confident that our track record can speak for itself when it comes to our clients' satisfaction. We thrive on complexity and impeccable-quality outputs.
With that in mind, it is our honor to announce that we've recently been selected for the prestigious Clutch Leaders Awards for 2021! Clutch is the go-to business-to-business review and market research website based in Washington, DC. The platform is known for its comprehensive market research, vast collection of client reviews, and the yearly Clutch Leaders Awards.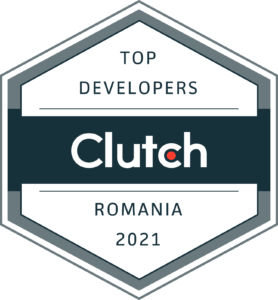 For this year, Algotech Solutions was considered a top-tier Romanian software development company! We are lost for words. This recognition means a lot to us and it's a testament to our effectiveness as a service provider. To express our sentiments about this milestone, here are a few words from our chief executive officer:
"We are excited to be recognized as one of the leading React and React Native agencies in Romania by Clutch." — Cosmin M. Tutunaru, CEO of Algotech Solutions
The whole Algotech Solutions team wants to cherish and celebrate this wonderful achievement with everyone who stood by us throughout our journey. We especially want to thank our clients who graciously and generously supported us by leaving awesome reviews on our Clutch profile. Your words don't just motivate us, they help showcase our team's outstanding services and solutions.
"They operate and behave like they're on our team. What makes them different is their commitment and willingness to embed themselves into the project. Algotech builds solutions for the long run. They've gone above and beyond." — Founder, Fintech Company

"They're extremely detailed when it comes to coding standards and quality of code. They're very strict, down to capitalization on variable names and following processes. That, and honestly, communication was a big deal to me." — Founder and CEO, Partfiniti Inc.
Let's start a project together! Get in touch with us and let's get down to business. Algotech Solutions is looking forward to working with you.
We transform challenges into digital experiences
Get in touch to let us know what you're looking for. Our policy includes 14 days risk-free!
Free project consultation